by Wills Morgan
It had trash talk performed by opera singers . It had a musical score which boasted some some actual tunes. It had a whole first act and a bit of a second act. And it had a big black man in a clean white nappy. This is the story of how JERRY SPRINGER: THE OPERA became the hit show a decade ago last week at the Edinburgh Fringe Festival. 
In August of 2002, a modestly staged entertainment was to become the hit of the 2002 Edinburgh Fringe Festival. An indication of what was about to hit the city appeared on the cover of the weekly guide to Fringe events: the LIST magazine.
In small letters: Edinburgh stripped bare. In capital letters and in a larger font: NAPPY DAYS. And the picture? A big and beautiful Black Man. Wearing a Diaper and With a Dummy In his Mouth. And Nothing Else covering his Modesty. Apart from the strategic placing of a TV talk-show cue card which bore the following legend:
JERRY SPRINGER: The Opera.
Note the title of the Legend. JERRY SPRINGER: a man who has had many careers. A lawyer, politician and an Emmy-Award winning news anchor. And, in 1991, the host of what was called a 'talk show' called (naturally enough) The Jerry Springer Show. This show started in a lower case font. As un-sensational social commentary of the kind that Mr. Springer was already known for. The viewing figures were not good. (This is a polite way of saying those same viewing figures were shit. Really quite shitty.)
A new producer was brought in; his name was Richard Dominick. He's responsible for Jerry Springer becoming the character that we know we love to hate to love: JERRY SPRINGER.
The new show was pretty much like life itself: full of surprises. Low lives. Unhappy marriages. Perverse behaviour. The Ku Klux Klan. The odd prostitute. God. Romances with animals. You know what I mean. There was heckling. There was fighting. There was people throwing things. There was people throwing up. But most of all…importantly…most especially…there was people having themselves a good, good time. It was trashy. It was 'bloody funny'. It was made for TV. But equally…it was…and is…opera.
So how did JERRY SPRINGER get attached to The Opera in its lower case sense? Here's how: with one man with a piano. A glamourous, voluptuous mezzo-soprano singer named LORE. A couple of crates of John Smiths bitter. ASDA lager, as well, just for a bit of contrast. In a small studio in Battersea, South London, In England, that itty-bitty island off the coast of Europe.
The Brixton-based composer Richard Thomas' workshops were called 'How to write an Opera about Jerry Springer'. The flyer for the show was an apology: 'Have an idea. Think it's a shit idea. Despair. Do it anyway'. It was done: and the Legend was born.
In August 2001, Mr. Thomas' London cabaret group, known as KOMBAT OPERA took to the stage in multiple guises. Serial seducers. Trailer Trash. The Ku Klux Klan. And right in the middle of it all…an anti-chorus every bit as fierce as the crowd of Jews as portrayed by JS Bach in his Matthew and John passions.
The Indepenent on Sunday journalist Anna Picard wrote of 'the first opera to take television as its subject'. She is 50 percent correct. As I know only too well, the subject matter of JERRY SPRINGER: The Opera is both Tele-Visual and Opera-Tic.
The word was spread that this was a show to see. In January and February of 2002 anybody who was anybody came to the second run of performances. Germaine Greer was there. Nicholas Hytner visited daily. Tim Rice came. Harry Hill, Chris Morris, Mel and Sue, Frank Skinner and much of the cream of British comedy saw what had inevitably become JS:TO.
Journalists wrote about it unbidden. Lyn Gardner of the Guardian came, saw half the show and wrote a review of the whole that was not polite. How we in the cast laughed at her. She should have gone to Specsavers, we said.
Fortunately, there was enough good press to secure an investment from TV mogul and celeb hairdresser Allan McKeown for a rewrite: the cast and newly-expanded company of 20 reconvened in Clapham to prepare to take JS:TO to the comedy Mecca that is the Edinburgh fringe.
Stewart Lee became director of JS:TO as well as co-writer. This was to be both a happy and unhappy accident for him. Richard Thomas continued to de-compose. International ABBA expert Martin Lowe urged and inspired us on. Dance expert Jenny Arnold helped to cover cracks that were still evident in the concept.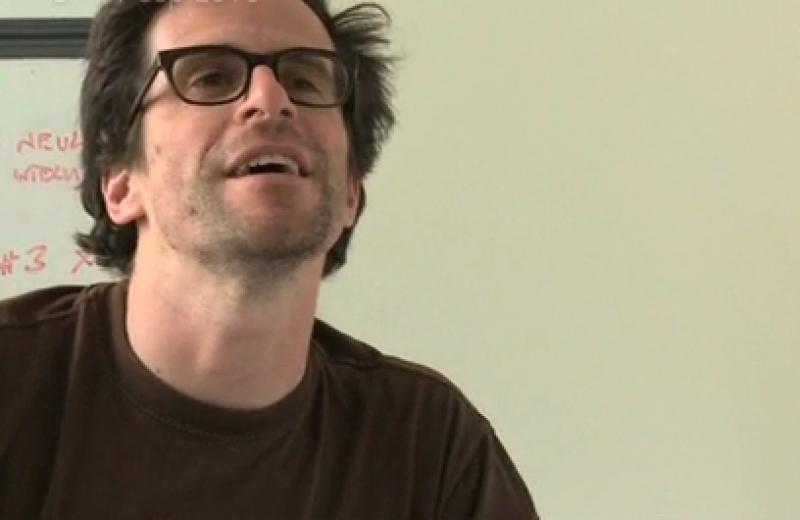 Day one of rehearsals was a bit nervy. Mr. McKeown came to the first sing-through with his wife, the artist formerly known as Tracey Ullman. We were a cast member down, as Andrew Bevis (a talented Australian singer) was voiceless. I was given the job of filling in Andrew's part whilst Andrew had to endure listening to me rip his role to shreds!
Allan McKeown takes up the tale: "In the car on the way to the first ever sing through of JERRY SPRINGER: The Opera my wife asked me how much money I had invested in the show. I told her. 'You must have loved the script' she said. I told her I hadn't read it. 'Oh you loved the music?' I said I hadn't heard it. 'You idiot' she said. Half way through the sing-through she whispers to me 'How much of the show do we own?' '50%' I told her. 'You idiot you should have bought the lot.'"
There were two major additions to the cast. I had played Dwight, the serial seducer who was always 'seeing someone else'. I exchanged that for the role of Jesus (a higher calling) whilst Benjamin Lake took the role of Dwight. Richard Thomas was so impressed with Ben that he wrote in an extra role for him: that part was the biggie… that of God Almighty himself.
But the major find was David Bedella. David had scored major theatre credits which included singing Fran-N-Furter in The Rocky Horror Show alongside Meatloaf, La Cage Aux Folles with Gene Barry and Caiaphas In Jesus Christ Superstar with Ted Neely and Carl Anderson. Credentials enough for the dual roles of Devil and Warm-up Guy.
Returning members of KOMBAT Opera were Valda Aviks in a myriad of roles, including a Superior Mother: also Lore Lixenberg as Valda's vocal and comedic foil…and of course the play friend of Diaper Man. I was Montel, the guy revealed to be the Man of Diaper, who was to return as Jesus in the second act.
The Canadian funny-guy Rick Bland reassumed his true characterization of 'The Springer'. Andrew Bevis played Tremont, the Chick with a Dick. The distinguished actress Beverley Klein had a go at being a pole dancer. David Birrell was Klein's Hillbilly husband.
To say the casting was ideal was not completely true: but enough of the pieces were there for the show to succeed up north. Most importantly, the writers insisted on colour-blind casting in all areas of the company. Later…much much later…the entire chorus of our little show was to win an Olivier Award for their outstanding contribution to a Musical.
JERRY SPRINGER: The Opera wasn't the only thing happening at the 2002 Fringe Festival. The other big ticket was for Derevo, the theatre ensemble from St Petersburg. Omid Djalili and Ross Noble made the cover of the List magazine alongside that picture of me in the nappy. But there was only one show that had low lives, unhappy marriages, perverse behaviour, the Ku Klux Klan, The odd prostitute and God in it. You know the one I'm talking about.
Word spread that this was a musical event that should be seen. Many, many people saw it. Including the man himself: Jerry Springer. On a lovely Saturday afternoon. "The Theatre was packed. The producers didn't want to scare the cast, so they didn't tell them which day I was coming – that was the plan at least. When I walked into the theatre though, everyone started chanting 'Jer-ry! Jer-ry! Jer-ry!' I think the cast caught on pretty quickly.'"
Afterwards Jerry met the cast and shook my hand. He admitted he wasn't sure he should shake it, given my casting as the Diaper Man. I said 'It all right, I've wiped my hands.' 
{module Facebook FanBox for articles}
{module Related articles}